Day 1 :
Surface Science and Engineering | Energy Materials | Materials and Devices
Location: London

Chair
Alberto Tagliaferro
Politechnico Torino, Italy

Co-Chair
Yukishige Kondo
Tokyo University of Science, Japan
Session Introduction
Tokyo University of Science, Japan
Time : 11:50-12:15
Biography:
Yukishige Kondo received his B. Eng. in Chemical Engineering from the Tokyo University of Science (TUS) and earned his Dr. Eng. for his doctoral thesis concerning "Solubilization of organic compounds using surfactant vesicles". His professional career started by joining the faculty at the Department of Industrial Chemistry, TUS. After he worked as a visiting assistant professor at University of Wisconsin–Madison from 2004 to 2005, he was promoted to Professor in 2015. He is working on "the synthesis of novel surfactants and their solution properties" and "preparation of metal-lustrous crystals using organic compounds" along with 24 students. He has a fascination for aircraft; he enjoys watching airplanes at airports and traveling by air.
Abstract:
Emulsions are metastable systems where one liquid (dispersoid) is dispersed as particles in another liquid (dispersion medium), and have been used in many fields, including cosmetics and paints. Many research has focused on the enhancement of emulsion stability. On the other hand, Demulsification, which is a phase separation phenomenon of stable emulsions, also plays an important role in industry. For example, aqueous waste fluids containing hazardous substances can be mixed with an oil to obtain an emulsion, and then the emulsion is demulsified to extract hazardous substances into the oil phase. This process is called "emulsion liquid membrane extraction". Demulsification has been so far performed by adding chemicals or by physical techniques such as the application of high electrical fields, or mechanical external forces and the variation of temperature. In this work, we will focus on the control over the stability of emulsions by an external stimulus, which is light. As a photo-responsive surfactant, a cationic gemini surfactant having an azobenzene group (C7-azo-C7) has been synthesized. C7-azo-C7 exhibits photo-isomerization between trans and cis isomers. When mixtures of trans-C7-azo-C7 aqueous solution and n-octane were homogenized, stableemulsions were obtained in a specific region of weight fractionand surfactant concentration. Fluorescence microscopy observations using a small amount of fluorescent probes showedthat the stable emulsions were oil-in-water (O/W)-type. As can be seen in Figure 1, UV irradiation of stable O/W emulsions promoted the cis isomerization of trans-C7azo-C7 and led to the demulsification. Dynamic interfacial tension between aqueous C7-azo-C7 solution and octane temporarily increased with UV light irradiation. From these results, the cis isomerization of trans-C7-azo-C7 molecules at the O/W interface on UV irradiation leads to direct contact between the water and octane phases, because of the reduction of molecular area at the interface, and subsequently makes the emulsions demulsified.
Université de Strasbourg, France
Time : 12:15-12:40
Biography:
Education: Lebanese University, Lebanon, B.S Chemistry; Claude Bernard University, France, M.S Organic Chemistry and synthesis of bioactive molecules; University of Nice Sophia-Antipolis, PhD Material chemistry and surface functionalization, Advisor: Prof. Frederic Guittard. Current position; Postdoctoral fellow a University of Strasbourg, Charles Sadron Institute. My early research involved synthesis of the natural product "Rhoptelol B". During the course of my Ph.D, I was interested in low surface energy materials and their applications in both solid and liquid interface affording to superhydrophobic surfaces and non-bio accumulated surfactants. I am currently working to develop a new glucose biosensor elaborated by crosslinking the active enzyme covalently in the matrix.
Abstract:
Biosensors have been widely applied due to their high sensitivity, potential selectivity, in addition to the possibility of miniaturization/ automation. Enzyme immobilization is a critical process in biosensors development with the necessity to avoid their denaturation and ensure their accessibility towards the analyte Among all of the enzymes applied in these biosensors, GOx is the most common one owing its importance for detection of blood glucose and its effectiveness in the diagnostic analysis of diabetes.
Electrodeposition of macromolecules is increasingly considered to be the most suitable method for the design of biosensors. Here, we present for the first time the elaboration of a mussel-inspired versatile biosensor using a "One Pot" electrochemical morphogenic approach leading to a covalently cross-linked matrix of biscatechol and glucose oxidase with no leaking observed. The immobilized GOX in the film shows an electrochemical response to glucose using ferrocene methanol as free mediator in solution and has a wide linear range from 1 to 12.5 mM as well as a good sensitivity and affinity to glucose. All these advantageous features allow the development of miniaturized biosensors through functionalization of a single electrode out of a microelectrode array.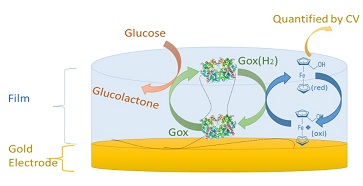 City University of Hong Kong, China
Time : 13:25-13:50
Biography:
Sam H. Y. Hsu's research interests involve the material design, synthesis, processing, imaging, spectroscopy and solar energy application, aiming to explore fundamental properties and interactions of hybrid perovskite semiconductors and functional metallopolymer materials for developing efficient solar energy conversion processes. He has keen interests in photoinduced charge transfer processes, interfacial electron transfer, electrochemical hydrogen generation, and photoredox reactions for photovoltaics and solar fuel production. The investigations between material phenomena rely heavily on concepts and techniques of material and physical engineering, consisting of photophysics, electrochemistry, photoelectrochemistry, scanning photoelectrochemical microscopy imaging, ultrafast transient absorption and time-resolved photoluminescence spectra.
Abstract:
A variety of PbI2/MAPbI3 perovskites were prepared and investigated by a rapid screening technique utilizing a modified scanning electrochemical microscope (SECM) in order to determine how excess PbI2 affects its photoelectrochemical (PEC) properties. An optimum ratio of 2.5% PbI2/MAPbI3 was found to enhance photocurrent over pristine MAPbI3 on a spot array electrode under irradiation. With bulk films of various PbI2/MAPbI3 composites prepared by a spin-coating technique of mixed precursors and a one-step annealing process, the 2.5% PbI2/MAPbI3 produced an increases photocurrent density compared to pristine MAPbI3 for 2mM benzoquinone (BQ) reduction at − 0.4 V vs Fc/Fc+. As a result of the relatively high quantum yield of MAPbI3, a time-resolved photoluminescence quenching experiment could be applied to determine electron-hole diffusion coefficients and diffusion lengths of PbI2/MAPbI3 composites, respectively. The diffusion coefficients combined with the exciton lifetime of the pristine 2.5% PbI2/MAPbI3 (τPL = 103.3 ns) give the electron and hole exciton diffusion lengths, ~ 300 nm. Thus, the 2.5% PbI2/MAPbI3 led to an approximately 3.0-fold increase in the diffusion length compared to a previous report of ~ 100 nm for the pristine MAPbI3 perovskite. We then demonstrated that the efficiency of liquid-junction solar cells for 2.5% excess PbI2 of p-MAPbI3 was improved from 6.0% to 7.3%.
Luxembourg Institute of Science and Technology, Luxembourg
Time : 13:50-14:15
Biography:
César Pascual-García graduated in Solid State Physics at the Universidad Autónoma of Madrid in Spain with a dissertation of Electronic optical transitions in III-V semiconductors. He obtained his PhD in Condensed Matter Physics in 2007 at the Scuola Normale Superiore of Pisa in Italy with the Thesis "Low lying excitations of few electrons quantum dots". At the beginning of his career he collaborated in fundamental topics centered on the electron correlations of semi- and super- conductor materials, but then his interest shifted to biology-applied topics as he started working as Scientific Officer at the Institute for Health and Consumer Protection of the European Commission. Currently he is an ATTRACT fellow and Lead Research Scientist at the Luxembourgish Institute of Science and Technology where he is leads the activities for electrochemical sensors and actuators for medicine applications at the Materials Research and Technology department. His current research focus are semiconductor nanowires for bio-sensing and the miniaturized control of chemical reactions
Abstract:
Redox active self-assembled monolayers (SAMs) are emerging materials in the design of key devices like sensors, batteries, or chemical switches. Amino thiol phenol (APT) is a very well studied molecule with a low redox potential, which is able to form SAMs in noble metals thanks to the affinity of its mercapto group and the interactions among the benzene rings. The dissociation constant (pKa) of the amino-group and its interaction with protons has been used to fabricate plasmonic pH sensors associating the molecule to metal nanoparticles which enhance the vibrionic signals that reveal the protonation state of the molecule. Recently, the corresponding concept, namely the modification of the pH through the proton release was proposed by the group of Itamar Willmer. The electrochemical change of the pH was allowed by a composite material which used Au Nanoparticles to increase the surface area to a point where the proton release induced by electrochemical action on the APT was sufficient to achieve a significant modification of the pH. Though, the system showed some signs of electrode degradation, the article proposed a new route to control electrochemical reactions. We studied an alternative to the concept of a nanoparticle concept, by keeping the self-assembled monolayers, which exhibited a better behavior in terms of quasi-reversibility of the proton exchange reactions. We studied different methods of functionalization including the traditional electrochemical polymerization and less common ones like photo- polymerization and plasma polymerization. In addition, we showed that the SAM in addition of sensing it can be used as an effective actuator to control the pH in microfluidic devices. We will propose microfluidic configurations of how use these monolayers and applications to take advantage of the miniaturization possibilities and electrochemical control.
Advanced Materials | Next-Generation Materials | Emerging Materials for Energy Storage

Chair
Hemalatha Parangusan
Qatra University, Qatar
Session Introduction
Qatra University, Qatar
Time : 14:15-14:40
Biography:
Hemalatha has received PhD in Materials science from Madurai Kamaraj University, India. Currently, she is working as a Research Assistant at Qatar University, in the field of energy harvesting. Her research areas of interest include polymer nanocomposites and nanomaterials.
Abstract:
Advanced high k-polymer nanocomposites designed by integrating high dielectric fillers within different polymers have considerable potential in energy storage applications due to their flexibility and ease of fabrication. Dielectric properties and the energy storage performance for various nanocomposites based on polyvinylidene fluoride (PVDF) are demonstrated here in this study. Semiconducting nanoflowers of ZnO were synthesized following hydrothermal fabrication, and the nanoarchitectures were modified by doping with ferromagnetic metals-Iron (Fe), Nickel (Ni) and Cobalt (Co). While doping with Ni, changed the flower like architecture of ZnO in to spherical shape, Co-doping developed nanorods with hexagonal cross sections with no significant change in the structure for Fe-doped ZnO. Different strategies of fabrication methods such as solution casting, sandwiching and electrospinning were practiced for the nanocomposite fabrication. In all cases, the concentration of the nanoparticles was varied between 0.5 wt.% to 2 wt.% and a regular increase in dielectric constant was observed with increase in concentration. At 2 wt.%, the solution casted films of Fe-doped ZnO filled PVDF composite showed a three times increase in dielectric constant. Whereas for the Ni-doped ZnO containing nanocomposite, the increase was about 4.8 times. In the case of Co-doped ZnO, a similar increase in dielectric constant was noticed for electrospun fibers. The significance of fabrication methods as well as the nanoparticle size effects are correlated with the energy storage performances.
Huaqiao University, China
Time : 14:40-15:05
Biography:
Yuanqiang Tan has completed his PhD from Central South University of China. He is a professor of the Institute of Manufacturing Engineering of Huaqiao University, a premier research organization of China. He has published more than 50 papers in reputed journals and has been serving as an reviewer of repute journals.
Abstract:
Carbon fiber enforced Nylon materials is a developing technology in selective laser sintering (SLS) process. The strength of the sintering components will increase with ordered array carbon fiber. An ultrasonic vibration assisted directional arrangement method for carbon fiber in powders is proposed. The powder bed model including short carbon fiber and nylon particles with a defined radius distribution, was simulated by discrete element method. The ultrasonic vibration was inserted to the powder bed. The fiber orientation frequency and orientation probability entropy are taken as criteria to evaluate the variation degree of orientation and ordering of carbon fiber. Three process factors, such as ultrasonic vibration amplitude, frequency and vibration time which affect the orientation arrangement of fiber were investigated. The results indicate that, with applying of ultrasonic vibration on the powder bed, the fiber orientation frequency along the vibration direction increased significantly. Moreover, as the vibration amplitude increasing, the degree of fiber orientation changes from high to low. With the enhancement of frequency, the change in the degree of fiber orientation gradually improves, and the ordering increases obviously. The vibration time effect exerting on the degree of fiber orientation and fiber ordering is consistent with the effect of vibration frequency.
The authors acknowledge the financial support from NSFC (11752135)

Defence Institute of Advanced Technology (DIAT), India
Time : 15:05-15:30
Biography:
Abstract:
Cyclohexeno-1,2,3-Selenadiazole is an organo-selenium compound and technologically important precursor. Organo-chalcogens particularly organo-selenium compounds have many useful applications in organic synthesis and pharmaceuticals. C-Se-N containing heterocycles can be exploited for their further use due to possible extrusion of Se by elimination of N2 molecules. 1,2,3-selenadiazole was utilized as precursor for synthesis of CuInSe2 (CISe) nanoparticles of various shape and size via thermal extrusion of selenium from cyclohexeno-1, 2, 3-selenadiazole (SDZ). The advantage of SDZ as a selenium precursor lies in its less stability towards thermal treatment leading to easy release of selenium at moderate temperature. The change in reaction temperature during synthesis of CISe exhibited change in physical properties of the CISe nanoparticles. The reactions performed at various temperatures showed variation in shape and size of the CISe nanoparticles which was confirmed by XRD, particle size analyzer, SEM and TEM analysis. Optical studies showed band gap in the range of 1.1-1.7 eV. Variety of shapes with lattice spacing of 0.33 nm corresponding to (112) crystal plane of CISe were confirmed from HRTEM analysis.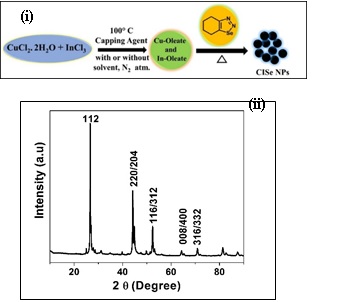 Southeast University, P. R. China
Time : 15:30-15:45
Biography:
Guangguang Huang, Ph.D of Southeast University, P. R. China in optical engineering. His researches are focus on synthesis of nanocrystals and their related photoelectric application. Recently, he realized cation exchange in perovskite NCs via molecule doping strategy and synthesized the functionalized Mn-doped dual-emitting perovskite NCs for ratiometric temperature detection.
Abstract:
Evidence-based approaches to the care of patients with type 2 diabetes (T2D) are based largely on clinical trials and routinely bypass practical impediments such as patient preferences, awareness, and motivational barriers. Although uncovering factors that influence adherence in T2D patients is well explored in the literature, the systematic overlap of quantitative electronic health record (EHR) and payer data with qualitative data is lacking. We conducted a prospective mixed-method study of 500 patients with varying levels of glycemic control and oral antidiabetic adherence, identified through EHR and payer information. We developed a conceptual model using two online methods overlaid with EHR and prescription claims information. Qualitative insights were collected using two online methods: daily snapshots over a 12-day period that included anecdotes, uploaded pictures, videos and comments about daily postings; and an online panel where patients shared their own views on T2D and adherence and commented on views from other patients. We consented 44 patients with 23 completing the study. Built around adherence measures as the first tier of segmentation and considering glycemic control, disease and attitudinal orientation, the model partitions patients into 8 distinct segments each portraying unique phenotypic characteristics. Although preliminary, these groupings may assist providers, healthcare systems and payers identify patient types and incorporate more effective ways of engaging specific patient groups, thus facilitating greater adherence, better illness management and more robust treatment outcomes.